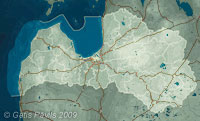 | | |
| --- | --- |
| No: | 8 (full list of monuments) |
| Category: | Medieval castles, Palaces and manor houses |
| Address: | Centre of Ventspils, Jana Street 17, approx. 1 km from the mouth of Venta, in quarter between Jana, Ostas, Pils and Peldu streets |
| Year of construction: | Shortly before 1290 (?) |
| Architectural style: | Gothic portal in western block, Empire style facade from first half of 19th century |
| Condition: | Very good, rebuilt and modified |
| Values: | Architecture, archaeology |
| Conservation status: | Archaeology monument of state importance No.2517, architecture monument of state importance No. 6927. |
More on medieval castles:
Brief description
Ventspils castle is one of the few medieval castles in area of Latvia, guarding the access to trade routes from the sea and the only of these castles preserved up to this day.
Most likely it is built in the end of 13th century and is the oldest surviving structure of convent house type - it consists of massive tower and four blocs, which enclose inner yard. At the same time the tower of the castle can be considered to be the oldest lighthouse in Courland. Over the last decades the castle underwent impressive rebirth and simultaneously - significant changes including modern elements (f.e. glass roofing over the inner yard) and has been shaped as one of the most attractive museums in Latvia.
Other names
The most ancient documented name of the place is Winda (1231), for Ventspils there have been used also a lot of similar names - Wenda, Wynda, Windau, Wyndaw.
History
Medieval times
Ventspils castle has been built for defense of local trade route in Venta River mouth. Here was located also a residence of a governor (komtur) of region of Livonian order.
Historians do not have a document at their disposal which would provide information about the exact time when Ventspils castle was constructed. Curonians concluded a covenant with a papal legate Baldwin of Alna - this is the first time when the land at Venta has been mentioned. There has been issued also a document in 19th April 1242 where papal legate William of Modena allows to Livonian order to build a castle or fortress or town at Venta (in the text - buwene eyn borgh oder eyn Vestunge oder eyn Stat). But it does not specify the site - most historians consider that here is meant the later castle in Kuldiga. In the treaty about the division of Curonian lands there is set that lands around the mouth of Venta will become a property of order. Sea harbours of Courland were divided between order and Courland Bishopric in 1263 - Venta harbour remains property of order - but the castle still is not mentioned. Only in the document about Curonian Komturei issued by master Halt von Hohembach in 1290 it is mentioned that komtur in Ventspils is subordinated to Kuldiga komtur. Most likely the castle is built shortly before this document was issued.
There are known names of 21 komturs in Ventspils in the time between 1291 and 1560, the first one was brother Detlef.
Together with the construction of the castle or even shortly before this there appeared a settlement. Most likely a church was built here before the castle. There has been preserved a seal from 1369 containing elements of Ventspils town coat of arms, in 14th century Ventspils received rights of town, in 15th century Ventspils was a member of Hanseatic union. In a deed of visitation from 1451 there is mentioned that there are only seven brothers of order in the castle, visitation from 1448 mentions that Ventspils has got per one tenth more provisions and armour than in Kuldiga.
In 16th century the castle looked rather unusually - walls were coloured in perse with painted rustication, corners were accentuated with colored joints of quadras.
17th - 19th centuries
After the collapse of Livonian order the castle became a property of Duchy of Courland and Semigallia. In the times of duchy in the castle there resided lord of the castle and garrison. Castle was severly damaged in 1659-1660 when it was captured in turns by Poles and Swedes. Castle was burnt down, walls facing the sea and Venta river were torn down.
After this war the castle was renewed and rebuilt but it started to loose its military importance. In 17th century there were built earthen ramparts. In 18th century just a part of the castle was in use. Sometimes it was adjusted to other needs - thus, for example in 1701-1706 in the site of castle chapel and hall of convent there was arranged a church. Interiors of the church were made by prominent woodcarvers of Ventspils Nicolaus Söffrens Junior and Johann Mertens. Tower of the castle got a new Barocco style roof with spire in 1798. At the end of 18th century the castle became a property of Russian Empire.
In the castle was quartered a regiment of musketeers of Russian Army in 1798 - 1802, here was arranged even a war hospital, Orthodox church, secretariat. In the second floor of the castle in 1827 there were furnished apartments for the lord of the castle but in the third floor - prison. Prison was located in the castle until 20th century. Here was imprisoned also writer A.Austrins in 1905. During the reconstruction works in the beginning of 19th century the facade of the castle obtained distinct features of Empire style - it has preserved in this way up to this day.
There is more significant rebuilding taking place in the castle in 1870ies (architect A.Gusev) - instead of the Barocco style tower there is built 13,8 metres high observation post for the Ventspils port pilot. Inner yard is rebuilt - instead of the former wooden arcade there are built brick wall galleries, large halls of Livonian order are divided into smaller ones. Castle got unfamiliar, more modern features which to big extent were removed in the reconstruction of 1990ies. Unfortunately during this rebuilding of 1870ies there were lost many valuable medieval details.
20th - 21st centuries
In 1915 when the Germans occupied Courland, in the castle there was arranged a camp for war prisoners. In 1920 here was placed a prison again - it was located here until 1959. Then for several decades the castle was used by a unit of border guard troops of Soviet Union. During this time the castle degraded especially fast, there were built smaller, ugly auxiliary buildings around it.
When the army left the castle in 1980ies it was decided to turn it into museum. There was started survey and reconstruction of the castle in 1985. Initially it was planned to renew it as a medieval castle. Political changes stopped the works for a while. In 1995 there was elaborated another project for reconstruction which envisaged to renovate a building as it looked in the first half of 19th century. In the meantime in majority of rooms and halls there was removed plaster and in many places - also ceiling. Thus major part of the interior from the first half of 19th century was lost. Still the castle was rebuilt according to this newer design an now here is located Ventpils Museum. Inner yard is covered with glass roof. There was reconstructed also the area around the castle and buildings of the castle complex.
Description of the construction
Outward fortifications
It is possible that in medieval times there was a moat around the castle - but nowadays such construction is not visible. There is no information also about any foreparts of the castle - although there have been found remains of walls in barholes.
As mentioned above, there were built earthern ramparts around the castle in 17th century - but these are also hardly visible now and partly covered with later buildings.
Build of the castle
The castle is approximately square - outer walls are 32,5 x 33,5 metres long, outer walls of tower - 10 x 10 metres.
Most likely the first building in 13th century was the large, quadrangular tower - fortified settlement started to develop around it. Later - in late 13th or early 14th century there was built a complex of four blocks with inner yard instead of fortified settlement. The initial tower was included in the building, in its southeastern corner. Tower was rebuilt and became higher in 15th century - and since this time it served also as a landmark for sailors. Later there was rebuilt the inner facade facing the inner yard - there were built walls up to the level of third floor. There was built also a ridged roof.
Thus here was created a typical convent house - building with square planning made of four blocks, three floors high and enclosing an inner yard. Massive tower of the castle is slightly salient. Next to the tower there was some 3 metres wide gate.
In 14th - 16th century in the first floor there were located household premises - kitchen, storeroom, stable. In the second floor there was a chapel, Hall of Chapter of Priests, dormitory, dining hall, apartments for komtur and rooms for guests. Third floor served as an armoury.
Walls of the castle are made of large bricks. All corners, also inner corners of tower, are made of dolostone quadras. Thickness of outer walls of tower and castle is approximately 2 metres, thickness of walls facing inner yard - some 1,5 metres.
There has been preserved also a chapel inside the castle - the oldest preserved church in Courland. The part where was altar is slightly salient. (3)
Monuments of art and other interesting details
There are few old details - f.e. in the second floor of western block there has been found a Gothic portal with profiled bricks - this portal has been walled up later.
In some places there have survived fragments of wall paintings from 15th, 16th and 17th centuries. Apartments of komtur were adorned with festoons of flowers and grapes, in rooms of the second floor there are drawn perse acanthi with black contour.
Legends
Castle had numerous passages for occasion of siege. One of these passages was leading to the other bank of Venta, some forest. Up to this day the entrance in the passage here is covered with large stone.
Once upon a time the old and harsh lord of the castle had a beautiful daughter - she had numerous admirers. She refused them all because she was fond of one local fisherman. Her father declined to hear this and often said - "Better the Devil take you and not fisherman!". Once they were quarreling in night. As the lord of the castle repeated his saying, there appeared Devil himself, caught the daughter and draged with him in the underground passage. When he reached the stone, Devil lifted it and got out of the passage. As the daughter followed him, stone fell down and jamed her hands. Devil tried to pull her out but there crowed the cock and Devil had to run further.
Lord of the castle was struck by stroke and died. Nobody knew where to search for his daugher and she died at the stone. One can hear in the night as she is calling the name of her belowed - but nobody can remember the name in the morning. (2, 3)
Investigations
1827(?) - K.Willong, drawing and contours of plan for Pauluci album;
1974 - R.Dundurs, research of the construction history in archives;
1984 - Z.Bets, research of the construction history in archives;
1985 - G.Erdmanis, collection of research materials and elaboration of the project for reconstruction;
1987 - Z.Rasmuss and A.Barbars, elaboration of reconstruction project;
1988 - 1990 - M.Rusa and M.Lusens, archaeological excavation trenches in the area of the castle;
1996 - 2001 - M.Lusens, supervisory archaeological excavations during the reconstruction;
1990ies - I.Dirveiks, architectural and art survey in the castle;
Linked landmarks
Ventspils medieval town (archaeological monument)
Historical centre of Ventspils
Medieval graveyard at Ventspls castle
Garden of Ventspils castle
Underground passages of Ventspils castle (legends)
Pump-house of Ventspils castle
Storehouse in the courtyard of Ventspils castle
Balastkalnins (Hill of Ballast)
References
Caune A., Ose I. Latvijas 12. gadsimta beigu - 17. gadsimta vācu piļu leksikons. Rīga, 2004.
Zilgalvis J. Pearls of Latvia. Full color guide to 40 of the most beautiful castles, palaces and manors in Latvia. Rīga, 2000-2001.
Website of Association of Latvia's Castles, Palaces and Manors http://www.pilis.lv, visited on 21st December 2008
Website of State Heritage Inspection http://www.mantojums.lv, visited on 20th December 2008