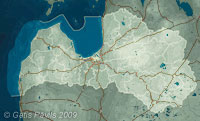 Coordinates:

56°56'01,98'' N 24°05'50,11'' E Google Maps
(localisation not exact, possible mistake up to 150 metres)
| | |
| --- | --- |
| No: | 156 (list of all monuments) |
| Category: | Medieval castles |
| Address: | Riga, Tornakalns, in the area of Vienīibas gatve 10 - Jelgavas Street 19 |
| Versions of name: | Roter Turm, Turris antiqua trans Dunum |
| Kad celts: | 13th c.? 14th c.? |
| Architectural style: | Gothic |
| Condition: | Does not exist |
| Value: | Architecture, archaeology |
More information:
The location of this peculiar watch tower is not known although it has been depicted in numerous maps and drawings. This building gave a name to Tornakalns neighborhood (Tornis in Latvian - tower).
History
Red tower has been little mentioned in written sources, there is not known its ancient name as well. But the most impressive panorama opened of the centre of Riga opened from the opposite bank of Daugava - and graceful Red tower in medieval times oftenwas in the forefront of numerous published panoramas of Riga City. Thus, for example this tower was shown in the pictures from the first half of 17th century - then this tower was already very old and was standing next to the newly built Kobronskansts fortification.
Already in 1248 there hs been mentioned stone building of crusaders in the opposite bank of Daugava - possibly this tower. In an engraving printed in the typography of Mollin in 1612 this tower has been shown more in detail - here we see that its Gothic architecture resembles castles of order from 14th century in Prussia. We can assume that initially this tower was lower but as time went by, it was built higher. Most likely this tower did not have one single name. F.e. in 1483 it has been mentioned as "that tower across Daugava opposite town". In 1590 it was named - stone tower, in 17th century - ancient tower. J.C.Brotze named it - Red tower and this is the oldest known specific name for this building. Most likely this name comes from the fact that the tower was built of red brick. Tower itself has left significant impact on Riga toponymics - it has given a name to Tornakalns neighborhood (Tornis in Latvian - tower).

Red tower of Riga - how it could look in 17th century. Drawing by J.Bine.
This high tower served as handy guard tower - it was easily visible from the Old city. From this guard tower across the sandy flats it was easy to inspect Pardaugava roads towards Kurzeme and Zemgale. In a case of danger sentinel gave an agreed signal to sentinels on the walls of Riga.
Tower lost its importance in 17th century - then across Marupite by Swedes was built a new fortification - Kobronskansts. Both buildings coexisted for a while but in the drawings from the second half of 17th century this tower is not visible anymore - most likely it was demolished by then.
In spite of seemingly easily identifiable location - it has not been found, because the configuration of the Daugava bank has changed here significantly. In 1905 the location of this tower was sought with a help of small scale excavations by N.Buss - without success.
Tower has given a name to Tornakalns neighborhood including the ancient Pusaka village in the surroundings of present day Veja street. Village around the tower perished in 18th century.
Description
Tower was located at the left bank of Daugava, at the mouth of Mara mill stream (now - Marupite), right bank of it. Mill was one-floor building with waterwheel. Tower together with mill created a single complex of buildings. In the opposite bank of Daugava there was similar complex - see Mill of Brother Berthold.
Tower was quadrangular, with six floors. Starting from the level of second floor there were windows with Gothic arches. Expressive detail was the pediment with steps. Tower was built of red brick, in the upper part of facade there were accents of white plaster. Facade was adorned also with decorative belts which divided floors visually. Entrance most likely was at the level of second floor.
Images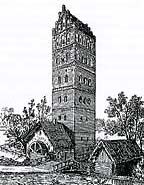 Red tower, drawing of W.Neumann after the engraving by N.Mollin from 1612
---
References
Broce J.K. Zīmējumi un apraksti, 2.sējums. Rīga, Zinātne, 1996, pp.79.,142.
Caune A., Ose I. Latvijas 12.gadsimta beigu - 17.gadsimta vācu piļu leksikons. Rīga, Latvijas vēstures institūta apgāds, 2004, pp.43.,411.