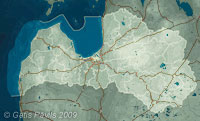 | | |
| --- | --- |
| No: | 1 (full list of landmarks) |
| Category: | Medieval castles, Palaces and manor houses |
| Address: | (Cesis district), Pargauja region, Straupe municipality, centre of Straupe village, east from Riga - Valmiera road, close to it, rehabilitation hospital. |
| Year of construction: | End of 13th century? |
| Architectural style: | Barocco (rebuilding of 1743) |
| Condition: | Good |
| Values: | Architecture, archaeology |
| Conservation status: | Archaeology monument of state importance No.579, architecture monument of state importance No. 6275 (together with the church). |
More on medieval castles:
Brief description
The somewhat monotonous landscape of the roadside of Riga - Valmiera road some distance before Straupe village is enlived with a distant silhouette of tower in Barocco style. When approaching there opens a view on old castle - structure which really has experienced a lot. Lielstraupe medieval castle most likely is built at the end of 13th century as a castle of Rosen family - then vassals of Riga Archbishopric. In 14th century there evolved the lively Straupe town around the castle - it perished in 17th century. Castle itself together with a complex of other valuable monuments has survived up to this day and belongs to buildings with the longest history of nearly uninterrupted use.
Castle is unique for Latvia with it's well preserved medieval chapel. Novadays this is Straupe medieval church - it still forms a part of the castle and the destiny of both buildings has been closely associated.
Other names, origin of name
In Latvian the castle is named - Lielstraupes pils or simply - Straupes pils. Attribute "Liel-" (Big-) is traditionally joined to distinguish from the nearby Mazstraupe medieval castle. The older German names on the whole show the ancient Livic hydronym better - ancient Livs (indigenous inhabitants of this area) called Brasla river Ropa or Raupe. In German the castle most often is called - Gross-Roop (Groß-Roop) with diverse variations - Rope, Rupa, Roppe, Roep.
History
Medieval times
Castle is located in ancient Livic/Latgallian province - Ydumea (Latvian - Idumeja). Close to the present-day Straupe there was built the first, wooden Christian chapel already in 1206 - most likely it was located in Baukalns hill nearby. Some years later - in 1211 - the chapel was burned down but in short time in Straupe there arrived the approved administrator of province - brother of Riga archbishop - Dietrich.
Unfortunately nowadays we don't have unambiguous sources stating the year when castle and stone church were built in Straupe. In documents from 1288 there appears the name of Voldemar von Rosen - vassal of Riga Archbishopric in this area - this leads us to believe that at this time castle existed already. In 1310 Lithuanians besieged the castle - this is the event and year where castle is mentioned in documents for the first time.
In 1350 archbishop of Riga of the day - Bromhold von Vyffhusen - issued suzerainity over husz tho Rosen (castle of Rosens) to Woldemar and Henneke Rosen. Judging from the geography of villages belonging to this castle we can deduce that this was exactly Lielstraupe castle.
Rosens of Straupe (Roop) belong to large, once influential and ancient family (>1000 years old), members of family have lived and been active in Germany, Poland, Sweden, France and other places (6). Rosens turned into one of the most influential families among vassals of Riga Archbishopric. Rosens owned several houses in Riga in 14th century, there formed present-day Rozena Street along their former properties. Members of Rosen family are buried in Straupe church as well - today we can see the gravestone of Georg Rosen (died in 1590) here.
Before long there formed a town at the castle - it has been mentioned in documents since 1352. In 1374 Straupe town got Riga privileges (ie. town privileges), it became also a member of Hanseatic League.
17th-19th centuries
Straupe town was wiped out in Polish - Swedish wars during the beginning of 17th century - since this time there is no town here. Castle was heavily damaged during the warfare as well - most likely we see just a small part of medieval castle today, major part has been rebuilt and added after the damages of this war. There is mentioned in inspection reports from 1624 that the castle has been desolated and abandoned except for two chambers, one cellar, kitchen, bathhouse without a roof and two threshing-barns. The king of Sweden Gustavus II Adolphus granted the castle to first lieutenant V.Vallenstein in 1625, who sold it to family of Albedil in 1629. Some years later the life in castle renewed. Church and the castle burned down in 1684 - both were rebuilt in short time.
During the Great Northern War castle and church were devastated again. The castle changed several owners during the beginning of 18th century, until in 1723 the castle was acquired by the outstanding field-marshal of Russian army, governor general of Riga, count of Irish nationality - Peter Lascy (Peadar de Lása, Peter Lacy, Пётр Петрович Ласси, Pēteris Lasī, 1678-1751). The new owner rebuilt the castle in 1743 and the building changed it's image significantly - castle gained it's Barocco style features which determine the looks of castle nowadays, including the dome of tower with spire and weather-vane with sculptured number of year "1743". Barocco style is apparent also in the pediment and the main entrance portal.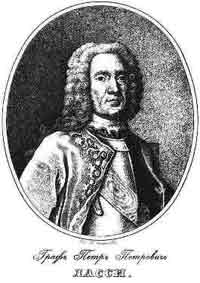 Peter Lascy - reconstructor of Lielstraupe castle
After the interval of several centuries castle became a property of Rosen family in 1857 - it was purchased by Johann Gustav von Rosen.
20th-21st centuries
The castle was burned down during the revolution of 1905 - according to rumours, with consent of Rosens. It is told that, when hearing about castles reduced to ashes by peasants elswhere, Rosens (owner - Hans von Rosen) evacuated their belongings to Riga and after coordinating with the local insurgents the castle was burned down. Property was insured on substantial sum. Wooden parts were destroyed, roof as well - but the thick walls did not change. According to historian A.Svabe - he observed the fire as a boy - tower fell down. Rosens had their family library in this tower including the documents from 13th century. Part of this documentation perished in flames. Later punitive expeditions brought the arsonists under arrest. (3)
Soon - in 1906-1909 - the castle was carefully reconstructed under the lead of brilliant Riga architect W.Bockslaff - in works participated many renovned artists and artisans from Riga, including sculptor A.Volz. The castle was rebuilt with possibly few changes, although some changes were brought in for practical reasons - f.e. second floor for aisle connecting the tower and church. There was added veranda, terrace, some external walls were rebuilt as filled framework walls. Several rooms got stoves from the buildings in Riga, which were envisaged for demolition.(4)
Rosens repatriated to Germany in 1939. There was placed administration of Lielstraupe machine-tractor station in the castle after the Second World War. Straupe drug rehabilitation hospital was placed in the castle in 1963 - it remains here up to this day. There took place partial renovation of the castle in 1966-1970, much effort was put in this work by physicians Dace and Janis Strazdini, numerous patients applied their proficiencies in this work. Currently, at least from the outside, the castle is in decent condition.
Description of the construction
Outward fortifications
Castle was fortified with moats and natural waterways. The access to the castle was protected with the deep valley of Brasla River from the southwest, in the southeast there was a system of deep moats created with the help of dams on tributary of Brasla River. Here, across it there was leading the road from Riga to Valmiera, contemporary roads follows this route in approximately the same place. To the north and northwest there is plain field - here was located Straupe town. In these directions the castle and the town were protected by two deep, artificial moats and a bulwark between them.
Build of the castle
Castle has been rebuilt numerous times during the long centuries and it is not that easy to distinguish when each part has been built. Both the castle and the church (both form single building) have been predominantly built of brick. Initially the chapel of the castle was inside the main body of the castle, current church has been built somewhat later.
The massive tower testifies the medieval history of the castle - it has got four floors, cellar and an expressive dome in Barocco style, built in 1743. The sides of quadrangular tower are 9 - 9,45 m long, thickness of the walls up to 4 m. Tower most likely is the oldest part of the castle, built in 13th century. Blocks have been added later.
Tower is flanked with the western and northern blocks. The 27 m long western block (parralel to Riga - Valmiera - Tartu road) was used for apartments. The southern part of western block, according to architect J. Spazier (1824), has been built in 1748. Northern block is 27,8 m long, here is located the main gate of the castle. At the northern block there has been built the 32,4 m long church.
Next to the castle there is located so called Little castle - building with two floors.
Castle had two yards encircled with stone walls. The smaller inner yard from the northern and western side is framed by the blocks of the castle, in the southern and eastern side there was defensive wall, which to large extent has survived to this day. Part of the inner yard still is covered with cobblestone. Outer yard was significantly larger - it was stretching to the other side from the castle and had a defensive wall around as well. Behind this wall there was Straupe town.
Monuments of art and other interesting details
Above the entrance of the main gate there is located coat of arms of Rosens and inscription which, among other information, contains a year when the castle has been built by Fabian Rosen - in 1263. This inscription has been made, earliest, in 19th century, when the castle was regained by Rosens. Thus this inscription alone can not serve as confirmation that the castle has really been constructed in this year as there are no authentic written statements. At the same time - if such inscription exists, we can assume that in the archive of Rosen family in 19th century there existed some proof for the mentioned year of construction.
At the northern wall of the castle there are placed tombstones of Rosens, where the text and coats of arms are easily visible.
Valuable monument of art under the state protection is a stove in the castle (beginning of 20th century).
In the tower of the castle there is located a clock made by watchmaker Aide - it is counting seconds, minutes, hours, days, months and years.
Legends
In old times the castles in Lielstraupe and Mazstraupe were connected with an underground passage, it went under the Brasla river. In Lielstraupe it started in cellar of the castle and continued up to the tower of Mazstraupe castle. During the rule of Poles in Lielstraupe castle there was nunnery. In Mazstraupe there were Polish Hussars. Through the underground passage Hussars often visited Lielstraupe castle. In the garden of the castle there met pairs and the fervent whispers were not at all devoted to Jesus Christ. As a proof of these love affairs may serve the carcasses of newborns found in later times, when moats of the castle were cleaned. (3)
...
In earlier times Lielstraupe and Mazstraupe castles were connected with underground passage. Here the monks from Lielstraupe an Mazstraupe met each other. Once the gardener from Mazstraupe wanted to go to Lielstraupe through this passage. As he went inside, after few steps the light went out. So he continued his attempts for half a day but could not go through. (2)
...
The Little Castle has been built for one of Rosens who, contrary to the advice of relatives, married a maiden of low ranks. Thus the married couple received as a present a small, new castle - honorous expulsion out of the property of family. Later the building was granted (or sold on low price) to faithful servants of Rosens. (2)
...
During the repairs in the study of baron, in alcove during in 1930ies there was found an inscription "1905", but on the floor there was a piece of coal which was used to write this inscription. (2)
Other images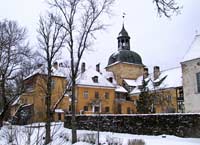 The castle, a corner of the church (right side), the defensive wall of the inner yard (forefront). View from the east
2002.02.
---
Investigations
End of 18th century - J.C.Brotze, description and drawing;
1824 - J.Spazier, description;
around 1829 - V.Tush and K.Kuntze, survey, drawing for Pauluci album;
1840 - E.F.Kerber, manuscript about the castle;
1901 - K.v. Löwis of Menar, investigations;
1906 - 1909 - W.Bockslaff, survey and investigations for reconstruction of the castle.
Linked landmarks
Lielstraupe Lutheran church
Underground passage to Mazstraupe castle (legend)
Lielstraupe park
Lielstraupe church cross stone
Medieval cemetery of Lielstraupe church
Straupe belfry
The remnants of Lielstraupe ancient town and system of fortifications
Lielstraupe tavern
Mazstraupe castle of bishop's vassal
References
Caune A., Ose I. Latvijas 12. gadsimta beigu - 17. gadsimta vācu piļu leksikons. Rīga, 2004.
Plaudis A. Ceļvedis pa teiksmu pilīm. Rīga, 2004.
Rukšāne G. Cēsu rajona pilis un muižas stāstos, nostāstos un spoku stāstos. Cēsis, 2007.
Zilgalvis J. Pearls of Latvia. Full color guide to 40 of the most beautiful castles, palaces and manors in Latvia. Rīga, 2000-2001.
Biography Research Guide. http://www.123exp-biographies.com/t/00031488726/, visited on 15th December 2008
De Launois - Les comtes et barons de Rosen. http://membres.lycos.fr/bdelaunois/Traces%20de%20Rosen/les_comtes_et_barons_de_rosen.htm, visited on 15th December 2008
Website of State Heritage Inspection http://www.mantojums.lv, accessed in 15th December 2008